High Secret Egg Pulls
I hope everyone enjoyed their Easter break. Meanwhile, I was busy farming High Secret Eggs in Monster Super League. Simply because I did not see Dark Mona Rebirths and released all my Nat 3s during last pull earlier this month.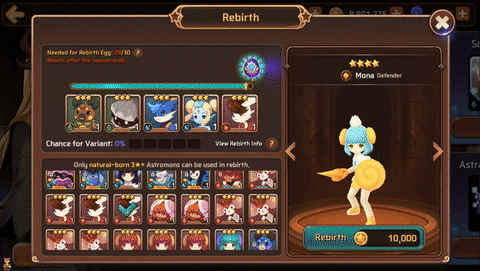 I only saw it a day after the pull, I'm pretty devastated honestly, Dark Mona Rebirth hasn't been around for a long time and I have been here since beta without my Dark Mona.
I got 153 Nat 3 during that run, which is about 30 or so chances at Dark Mona. So, I been only doing Golem, Elemental and Starstone dungeons throughout the week purely to get more High Secret Eggs, I finally got a stack of 100 ready to go.
Of course, none of this will guarantee me a Dark Mona but it's been years since the last Dark Mona Rebirth happened, and I have already sacrificed over 1,000+ Astromons throughout the years attempting to get Dark Mona without any success. Further, in the past, there wasn't a 30 rebirth will guarantee a Light/Dark Egg either. So at the very least, each 150 Astromons will provide at the very least a 25% chance of getting it. Let's start with opening my High Secret Eggs first.
Gacha Pull Results
x 0

x 7

x 110
I didn't care much for Nat 4 or Nat 5s this time around, all I wanted was two things, Nat3s to feed and Monas to feed, I was also under the delusional thought I would get a Dark Mona as well.
The ratios goes as 0.00% of getting a Nat 5 & 5.98% for a Nat 4.
While the Nat5 rate was non-existent at all, Nat 4 ratio stupid low at a 5%, which was terrible but 110 Nat 3s meant 22 pulls. With a mixture of sacrificing the rebirth Astromon as well, I could get at least 30 pulls in.
At the end of the run, I not only had a bad pull for Nat4/5s, I didn't get a Dark Mona either during Rebirth Event. My last chance is during Hero Festival which is just a few days away. With summoning, I should be able to get more Nat3s to attempt for Dark Mona again!